These Exit Signs are ideal for corridors, lobbies, reception areas and office spaces. The LED light source provides up to 10 years of light and has low energy consumption making it a smart exit lighting alternative. Ultra-slim in design, the exit sign is made of die-cast aluminum with a finish that repels fingerprints and other surface contaminants.
Energy efficient LED technology allows you to save money on your energy bill
Aluminum construction in brushed silver
120-277-Volt monochromatic LED
Monochromatic LED; included
Thermoplastic Exit Sign
Edge Lit Exit Sign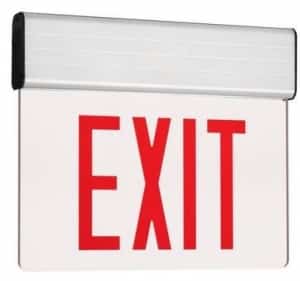 FLUOROLITE PLASTICS
2 Central Street Suite 133
Framingham, MA 01701
When you need a replacement light cover, go with a manufacturer who can match it, get it to you quickly, and offer competitive pricing. At Fluorolite, we do all that — plus so much more.
Sign-up for our Newsletter
Sign up to receive news, promotions and our latest blog posts.
"We've Got You Covered" and Trace n' Fax are Registered Trademarks of Fluorolite Plastics, Inc.
© 2011-2018 All Rights Reserved.